Celebrating Texture in the Studio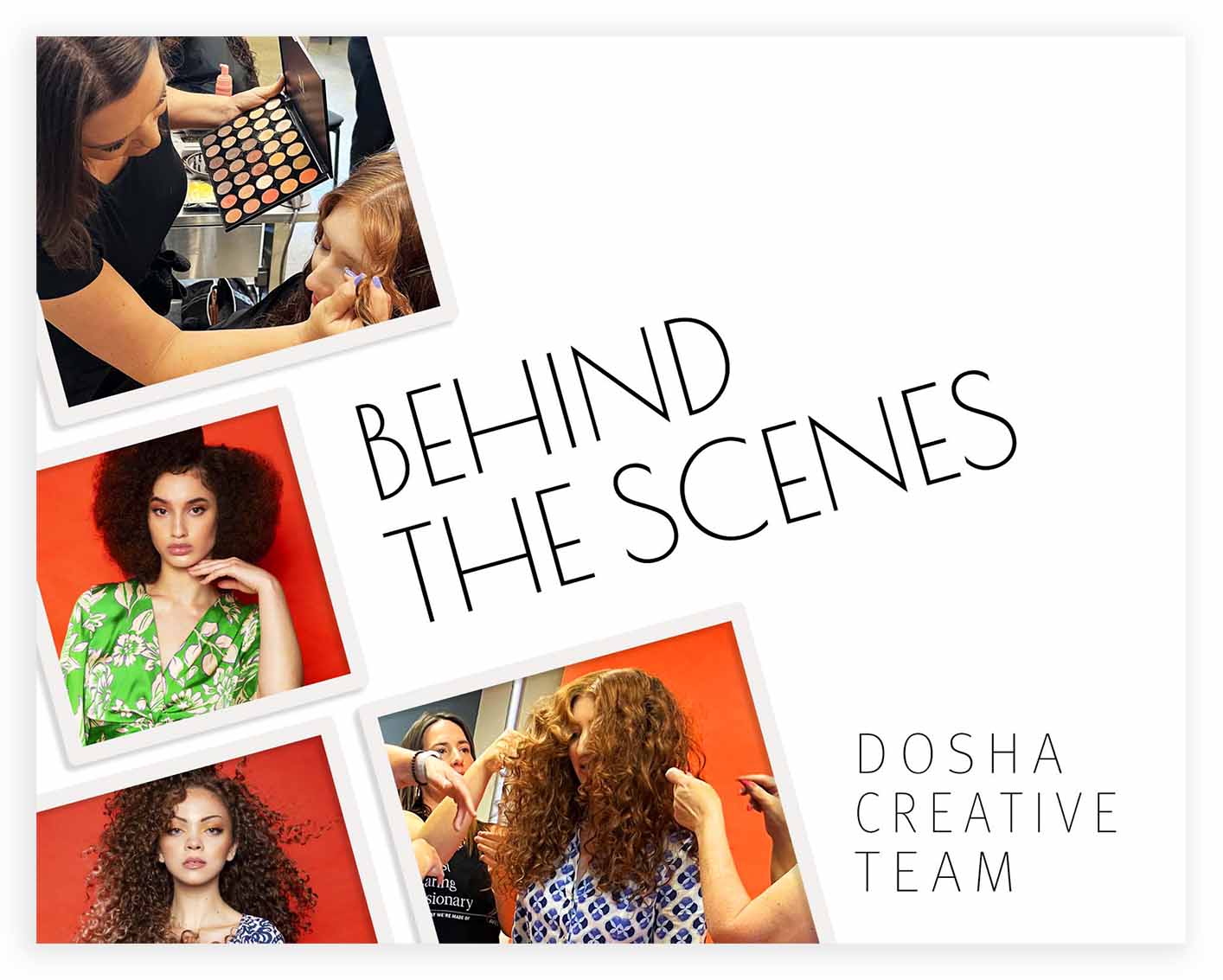 Dosha Creative Team photoshoots set the mood each season. . .
Our photoshoots are designed to stretch and build our stylists' creative muscle. It requires unique preparation, equipment and, of course, talent, to make each photo shoot come to life. This most recent photoshoot was inspired by all different types of textured hair. Our stylists played with each model's natural curls to create shapes, volume, and lots of definition.  
We asked Dosha Master Stylist, Kim Botner, to give a behind the scenes look at the photoshoot and find out what it takes to bring ideas to life in the studio. Here is what she shared:
Q: How do you prepare for a photoshoot? 
Master Stylist Kim Botner: I start by creating a story board. I pull ideas from a wide variety of sources like current fashion trends, different types of art, nature, architecture etc. Once the concept and storyboard comes together, the preparation begins! 
As a team, we speak collectively about what parts of the theme inspire us and narrow down each look. We practice our technique on mannequin heads so our ideas can evolve. We often meet up for a jam session before the shoot to ensure we're all on the same page with cohesive ideas. I also make sure to pull any wardrobe accessories or props, and have practice looks narrowed down by the makeup artists as well. Lastly, it's important to get a good night's sleep beforehand and be ready for a fun creative day ahead! 
Q: What is the day of the photoshoot like? 
Kim: All of the artists will gather around the storyboard before the models arrive. We make a visual collage for each look with images of hair, makeup, wardrobe and model to ensure we have a good visual representation for each look. Once the models arrive, makeup, hair and nails all happen collectively. As the first look is finished, we begin shooting in the studio. The team shifts to help the next model finish up. Shoot time consists of a lead stylist and makeup artist, a photographer and a monitor curator. As we shoot, we'll watch to develop poses and lighting until we get those perfect shots.  
When the photoshoot is over, we always regroup to go over successes and failures of the day. We love to celebrate and reflect at the end of every shoot- it makes us stronger. Our team has worked together for many years, and we've established a good rhythm of helping each other to get to our end goal. 
Q: What makes a photoshoot successful? 
Kim: Teamwork makes the dream work!
It's important to have artists with a strong skill set, to keep organized and to implement consistent communication. We always have group chats to keep everyone up to date and share ideas back and forth. We try to focus on being strategic and using our time efficiently. We also actively grow our team by implementing assistants that help with the photoshoot. It helps us stay on track, and in turn they learn how to eventually take on models of their own.  
Along with teamwork, the success of a photoshoot starts with having a concept that everyone is excited and challenged by, so we can all look back and say, "Wow, we did that!"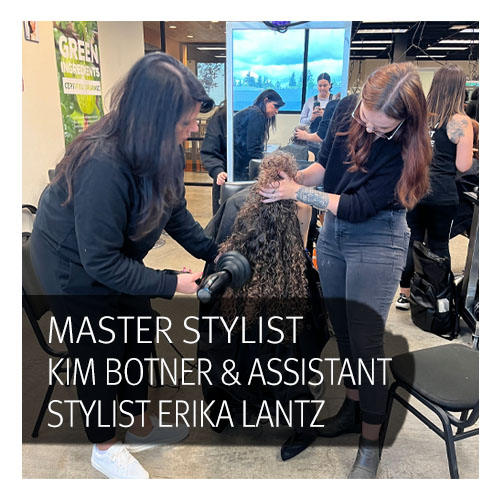 Our stylists & makeup artists represent the most creative, passionate, and talented individuals in the industry.
Our team and Photographer, Kendra Barber, use color palettes, lighting, and Aveda products to make each shoot come together. As Master Stylist Kim Botner pointed out, "Teamwork makes the dream work!" Check out the latest from the Dosha Creative Team on our summer posters in our salons! 
---
Quick applaud to the team that participated in our most recent photoshoot! 
Hair by:  
| | |
| --- | --- |
| Master Stylist Kim Botner   | |
| Master Stylist Kristina Paris   | |
| Master Stylist Doza Barcelona   | |
Makeup by:
 

Master Stylist Juliana Morton  

 

Master Stylist Kayla Jones  
Hair Assistant:
| | |
| --- | --- |
| Stylist Erika Lantz   | |
Photographer: 
| | |
| --- | --- |
| Kendra Barber   | |
---
Check back every month for new Promotions & Events happening at Dosha Salon Spa! 
Want to join our mailing list? Join here!