Fall Into Color
Oct 12th 2020 | By Jillian
Q&A Session with Dosha Salon Stylists
Step into the salon chair with Dosha Salon Stylists and discover our favorite hair colors of Fall. Learn  techniques and how to protect your hair.
Q: What are your favorite Hair colors of fall?
A: For Brunettes, we love a rich chocolate brown with a gloss of gold to add incredible shine. For Blondes, the trend is shear tones of copper, peach, and honey. We love the reflection of copper while it still appears blonde.
Q: Which coloring technique do you recommend for transitioning from Summer color to Fall color hair? 
A: Dimensional Color! Highlighting is a dimensional color technique that is used to achieve anywhere from a subtle change to an all-over lighter appearance. Low lighting is a dimensional color technique that adds color back into lightened hair to create contrast and depth. Our third option, Balayage, is a demensional color technique in which we hand paint color to achieve natural and soft looking ribbons of color into the hair. Usually balayage is low maintenance in that the root area is left less saturated with color and the ends are more saturated, leaving a very sun kissed appearance. 
Q: Do you have a professional recommendation on how to protect  my hair because I color it?
A: Healthy hair will always retain color longer and better than unhealthy hair which means the more we do to moisture and strengthen our hair the better. Every chemical service done on the hair, leaves the hair slightly altered which means we need to alter how we treat it. Aveda's New Botanical Repair Professional bond building treatment rebuilds the bonds in the hair to maintain color longevity and less breakage and dryness. Botanical therapy treatments also go a very long way in protecting color as they strengthen and moisturize the hair up to 86% more in one use. A shampoo and conditioner system like Color Conserve or NutriPlenish are the foundation for home care in keeping color and health of hair maintained between salon visits.
A big thanks to our Master Stylists who contributed to this blog, Master Stylist at Dosha Salon Hawthorne, Hannah Lobalbo & Master Stylist at Dosha Salon Bridgeport, Kim Botner. We hope our Fall Into Color favorites will get you inspired and motivated! Be happy - Be Healthy. Thanks for reading!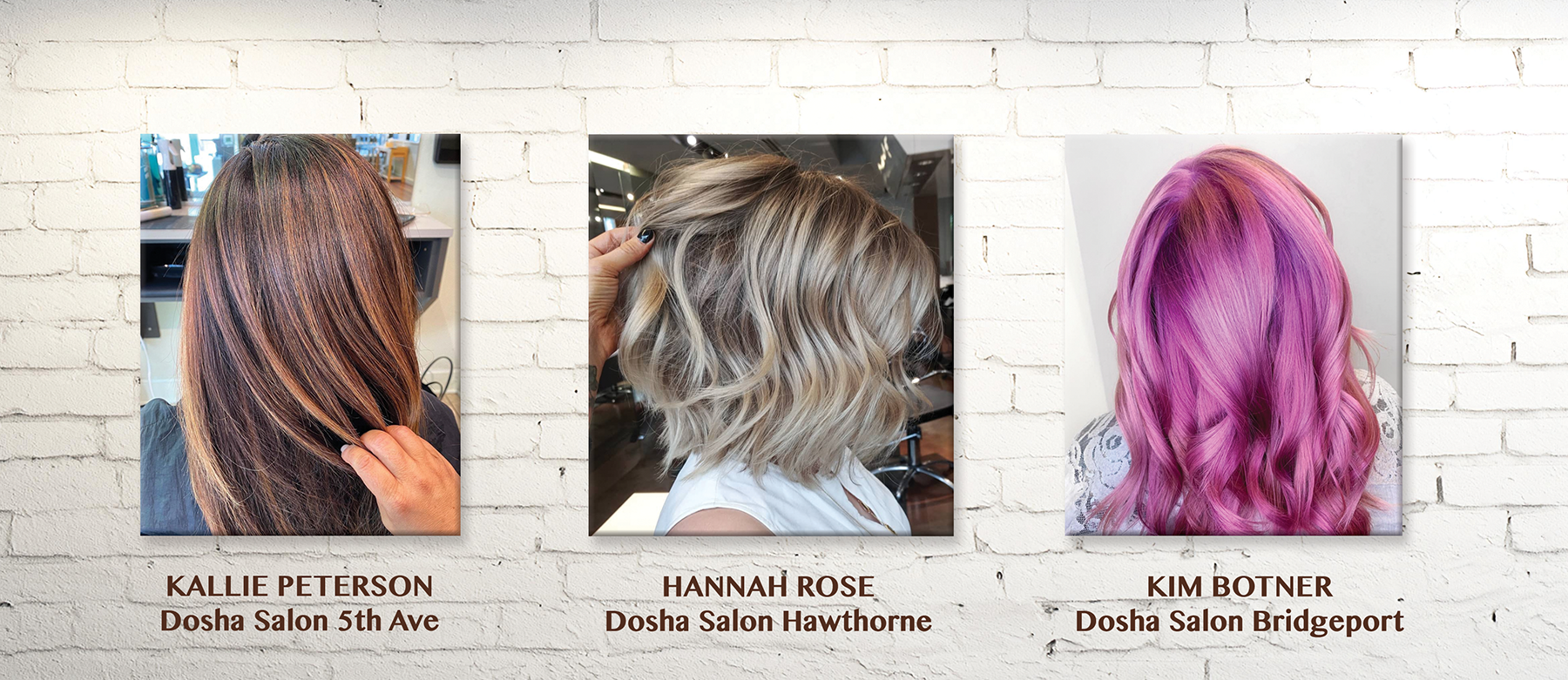 If you're interested in adding any of the products we previously mentioned or want to contribute your support to Dosha during these difficult times, please click here to purchase any of the Aveda products that Dosha offers!
During these trying times, our main goal is to get our team back to doing what they do best, providing the most lavish experiences possible for our guests. Click here to purchase a gift certificate! Make sure to book an appointment online by clicking here to guarantee your appointment time and date. Our New Artists Program is the perfect place to start with 50% Off Services. When booking online, look for "New Artists" available at select locations. For more information regarding program details, please Click here.