My New Artist Experience
Nov 02nd 2020 | By Jillian
With Stylist Molly Nesting at Dosha 5th Ave
Before my visit, I took a moment to review Dosha's Safety Precautions during COVID. Dosha Salon was perfectly clear on their cleaning practices which was very reassuring. Once prepared, I headed to Downtown Portland's Dosha Salon Spa on 5th Ave. I arrived and waited outside just as the Safety Precautions notice advised. Upon entering, I was greeted by a host. I sanitized my hands and had my temperature taken. I filled out the COVID waiver form and the host took me to meet my New Artist stylist, Molly Nesting. 
Molly had me sit down and we discussed my hair. I asked for a haircut with color and we discussed dimensional color and balayage technique of painting the hair. We also discussed a new product for hair color called Aveda Botanical Repair. She advised that the Botanical Repair Bond would be added to the enlightener and the hair dye so that my hair was protected during the process. Molly was very informative about the benefits of this step and I was pleased about the add-on service.
We began enlightening my hair, using foils in the process. Once complete, I sat under heat for about 20 minutes. She had advised that it was important not to let the hair dry out during the enlightening process, so she went back into the foils and re-saturated the hairs with enlightener. Back again under heat, I sat back comfortably and looked at my surroundings. The Dosha lighting was very comforting and the beautiful windows that ran the length on the building was quite picturesque. Once the enlightening process was complete, we rinsed and used the Botanical Repair Shampoo and Botanical Repair Strengthening Conditioner. She advised that I can also buy the set to help keep the color after my visit to the salon. 
Next, hair color! I did review swatches and chose a permanent color that I felt represented autumn red hues and garnets. It was a big change in color, but I was ready and was I ever surprised at how rich the color came out. It was beautiful! My goal for hair color was to have an Autumnal Fall color look. With Molly, we were able to achieve that perfect match of reds and copper tones to complement my rich chocolate brown hair. I am so thrilled with the color!
A big thanks to Molly Nesting, a Dosha New Artist at the 5th Ave location. I had such a wonderful time in the salon getting to know her and understanding her styling techniques. I look forward to our next visit in January 2021. I hope my New Artist Experience has inspired and motivated you! Be happy - Be Healthy - And be the best version of yourself! Thanks for reading!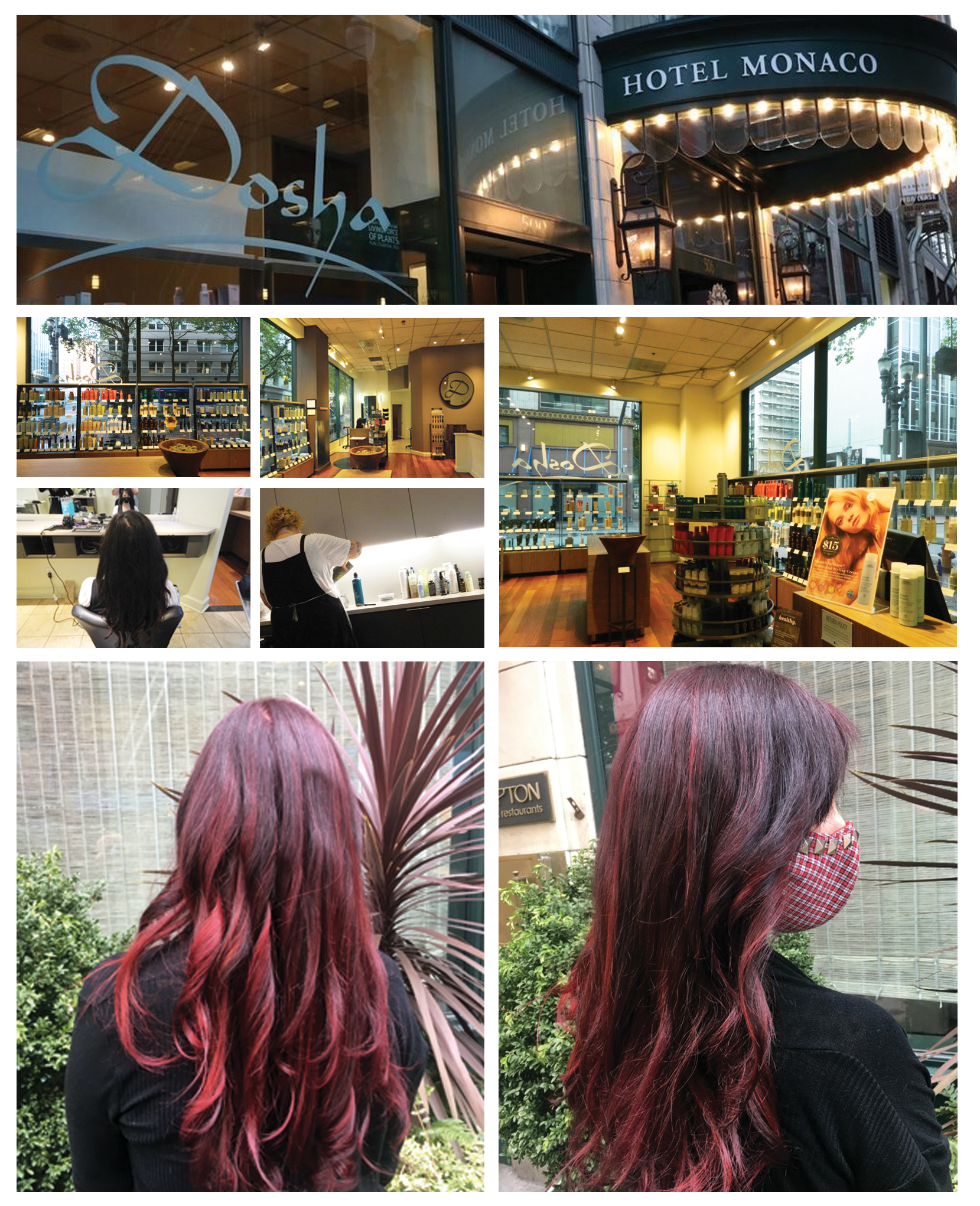 If you're interested in adding any of the products we previously mentioned or want to contribute your support to Dosha during these difficult times, please click here to purchase any of the Aveda products that Dosha offers!
During these trying times, our main goal is to get our team back to doing what they do best, providing the most lavish experiences possible for our guests. Make sure to book an appointment online by clicking here to guarantee your appointment time and date. Our New Artists Program is the perfect place to start with 50% Off Services. When booking online, look for "New Artists" available at select locations. For more information regarding program details, please Click here.
The Holidays are here - Are you Ready? Give the gift of Dosha! Click here to purchase a gift certificate!